Indiana Police Investigate Horse Hair Thefts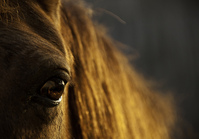 Indiana law enforcement is investigating a trio of incidents involving horsehair theft.
The Hendricks County Sheriff's Department said that they were first alerted to the incident on November 11th. The horse's owner said both the mane and tail had been cut. Several days later, another incident was reported.
According to the Hendricks Sheriff's Department, all the incidents took place at the stables where the horses were being boarded.
Horse hair is traditionally used in a variety of fashions, both in and outside the horse industry. Owners purchase hair extensions to lengthen their horses' tails for show events. Horse hair is also used by craft and jewelry makers, and in the music industry in the production of violin and cello bows. Typically, horse hair can run anywhere from $40 to $200 per pound.

The investigation is ongoing, but the department reports that they do have several leads. Apart from their new haircuts, the horses were unharmed.
News