Horses, people connect at Cape Coral's Saddlewood Ranch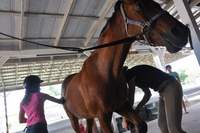 Horseclicks
Ten-year-old Jade Cabrera gingerly approaches the burgundy beast, which huffs and stamps a heavy hoof into the dusty ground as she moves closer.
Massaging his muscular shoulders with an oversized brush, Cabrera murmurs something softly in the direction of his face. He turns his head slightly, acknowledging her voice.
Her ease with him shows it's not her first time handling a horse, but it is her first riding lesson at Saddlewood Ranch in Cape Coral.
"When I first told her I was going to take her for more lessons, she literally burst into tears of joy," says Cabrera's grandmother, Gail Elmore, who watched, smiling. "I don't know exactly how to explain it, but she just feels this connection with horses. It's like she's in her natural element around them."
Cabrera is not alone.
There are a handful of stables throughout the Cape, mostly in the north. Guido Sdrenka, who operates Saddlewood with his wife Christina, says some people stop by after work to spend a little time unwinding before they head home.
"This is kind of their happy hour," Guido Sdrenka says. "For a lot of people, horses are an amazing stress reliever."
What is it about these creatures that captures the affections of 10-year-old girls and 50-year-old men alike?
Of course, millions follow the high-profile, high-stakes races, such as the Kentucky Derby, which was earlier this month, or the Preakness, which was May 19, and Belmont Stakes, which is June 9.
Beyond that, though, people in Cape Coral who work with and spend time with horses say they are different from any other animal in terms of their sheer size, intelligence and beauty. Making a connection, they say, is a soul-soother.
The Sdrenkas believe it has something to do with the fact that a horse will not do anything it doesn't want to do. But if you are kind to it, keep it healthy and care for it properly, it will reward you by allowing you control.
"That gives people an incredible boost of confidence," Guido Sdrenka said, adding that horses seem to sense when someone is special.
He talks specifically about a 5-year-old boy with autism who, prior to spending time with horses, spoke rarely, if ever. In the stables, however, he became a chatterbox. His parents at first didn't believe they were hearing their son's voice.
"His doctors were pretty amazed too," Guido said. "It was really neat, but (Christine and I) weren't surprised that a horse could have that kind of impact on someone."
Denise Bement, who operates Mane 2 Tail Horse Massage in the Cape, says that for her, interaction with horses allows her the unique chance to meditate and connect simultaneously. She calls it an energy exchange.
She says the 60 to 70 horses she regularly cares for know everything about her — secrets she won't even share with her closest friends.
"Horses see us for our real self," Bement said. "Without all the trappings of what you're wearing or what kind of car you drove up in. They see you. And they sense your emotional state too, which is powerfully healing if you're in a down place."
There seems to be scientific evidence to bolster her claim. A 2007 study by researchers at New Mexico State University explored the use of equine therapy to boost the mental health of abused children. Over the course of 18 months, 63 children between the ages of 4 and 16 were evaluated as they started regular interaction with horses. The social scientists discovered that children previously diagnosed with mood disorders, post-traumatic stress disorder, attention deficit disorder and other disruptive disorders, were markedly calmer. They required less medicine, reported a higher sense of self-worth and self-confidence and displayed increased levels of empathy.
At Saddlewood, 14-year-old Jillian Lucia, an Oasis Middle School student, is volunteering her time cleaning stalls, grooming and feeding the horses. She started with a summer camp there, and before long, was hooked.
"I don't even really have to say anything, and they just know how I'm feeling," Lucia said. "There's no drama with them. They're the best friends you can have because no matter what, they're still going to trust and love you."
Source: News-Press
Browse horses for sale or place an ad on Horseclicks now.
News