Horses On The Roads - Are Drivers Doing Enough?
News
•
Friday 24 October 2014
The war for the roads between horses and cars is one that most people are aware of, but for some reason many drivers are still unsure of how to handle a situation when our four-legged friends take to the roads.
With the holiday season approaching, many drivers from less rural areas may be making their way into the country to visit family, go apple picking or maybe to a christmas tree farm, and they will likely find themselves in an unfamiliar situation along the tree-lined lanes when faced with a horse trotting on the side of the road or waiting to cross.
Some of the ways to approach such a situation may seem obvious, but it's shocking how many people take no care when driving past a horse. The first and one of the most important things to do is SLOW DOWN.
"Horses behave in unpredictable ways," said Katherine Daniels, an experienced rider who lives in North Salem and rides every morning. It is important to drive slow because if the horse spooks, they need to be able to stop. Just like humans, even the calmest horse can lose its cool. "I'll be standing waiting to cross the street and people will just drive by at 55 miles per hour," Daniels said.
Being aware of sounds is also important, so take care not to honk your horn or let your dog stick its head out the window as it may bark at the horse.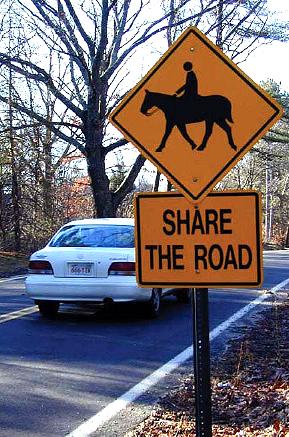 There are laws regarding drivers and horses. New York State traffic law states that drivers must approach horses at a reasonable speed and pass at a reasonable distance. It is also illegal to honk as they pass. However, how strongly these are enforced is another matter.
Being sensible when driving in places there may be horses around is important for the drivers safety as well as the horses. A collision of two things of that magnitude can do serious damage. Riders can also do their bit to help by wearing high-visibility clothing.
It is also possible a horse might escape its paddock or stall and end up on the road without a rider, in which case it is especially important to drive slowly. Recently a carriage horse got loose and ran through the streets of New York City. Not to forget the great Horse Poo Debate.
Have you had any bad experiences with drivers when riding your horse by the road? Tell us below...
News