Horses are answer to terminally ill New Baden boy's wish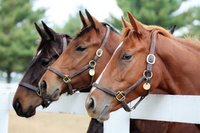 Horseclicks
When 7-year-old Austin Grover is around horses, he becomes a different person.
He is more verbal, confident and eager to learn and to teach others about his passion.
So, when the Make-A-Wish Foundation of Illinois asked the New Baden boy to think big when asking for his wish, the answer was a no-brainer.
He wanted to see a racetrack and visit the Kentucky Horse Park in Kentucky and the nonprofit organization made it happen.
The organization rented a recreational vehicle so Austin's family could make the trip to Kentucky where they spent a week in April touring the Horse Park, visiting the Keeneland Racetrack to watch the opening day races, touring the Ashford Stud and Claiborne Farm.
He also rode in a private therapeutic riding trail ride at the Central Kentucky Riding Center for Hope, a facility that specializes in therapeutic horse-related activities for children and adults with special physical, cognitive, emotional and social needs.
Claiborne Farm is where Secretariat lived.
"Austin is a big Secretariat fan so he was just ecstatic to be there," said Austin's mother, Hope Grover. "He got to visit Secretariat's stall and got his picture taken with the statue of Secretariat."
When asked why Secretariat was his favorite, Austin replied "Because I watched the movie too many times." His mother added he also slept with and eventually broke the Secretariat movie DVD.
Austin has autism and was diagnosed with mitochondrial disease last year. The disease is caused by dysfunctional mitochondria, the organelles that generate energy in the cells of the body. Some of the problems associated with the disease include poor growth, loss of muscle coordination, muscle weakness, visual problems, hearing problems, learning disabilities, heart disease, liver disease and gastrointestinal disorders.
"It's a terminal illness, life threatening," Hope said of Austin's disorder. "He is stable right now, but there is no cure for it."
The trip to the Keeneland race track in Lexington was the highlight of Austin's trip, he said. The family sat in a club box to watch the races and were able to go to the winner's circle, tour the paddock and have his photo taken with one of the race winners of the day.
"I don't think it's anything he'll ever forget," Hope said of the trip. "It was definitely a trip of a lifetime for him."
Austin commented several times that seeing the horses race was definitely the best part of his whole trip to Kentucky.
"When he was younger he was deathly afraid of horses but he loved them," Hope said. "Stuffed horses, he couldn't get enough of, but, once we got him up on the horse he couldn't get enough of the real thing."
Austin now rides twice a month at Chakota, a therapeutic riding program near Germantown. He grooms, rides, pets and talks to the horses there and is eager to show visitors how to groom and the softest spots to pet on a horse.
His favorite is April, a bay Morgan mare who is blind in one eye. He carries stuffed horses with him and the names are easy to remember: They are all April.
His favorite color horse is bay -- just like April.
"She always comes up to me," he said as he pressed his forehead to her muzzle and held a hand lightly against the mare's cheek. The mare sighed and half-closed her eyes. She relaxed as the boy gently rubbed his forehead against her velvety nose.
"He talks a lot more out here and he's a lot more understandable out here," Hope said. "He's a lot more free and confident at the barn and around the horses."
When asked why April was his favorite he simply replied: "She is my guarder."

Source: BND.com
Browse horses for sale or place an ad on Horseclicks now.
News