Horse rescue groups struggling to cope due to drought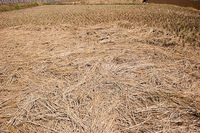 Horse rescue groups across the USA are struggling to care for the ever growing numbers of animals that are being abandoned. Since the Great recession hit four years ago, it seems that the number of horses that are being abandoned is on the up.
According to
Chron.com
, the leaders of these groups are saying that their jobs are being made more and more difficult this summer, as drought and wildfires are burning up new pastures and have caused hay prices to grow very large.
The website stated that many people who were holding onto their horses in the downturn are now releasing them as they are unable to afford feed that has increased dramatically and has more than doubled in price.
Chron.com spoke to Jami Salter, who is working at the Double R Horse Rescue in Riverdale, about 150 miles west of Omaha. Salter cares for 15 horses, and she stressed that is all she can handle, however, she is still receiving a number of calls each week from people asking to take their horses. She also stated that at one point people were abandoning one or two animals. a week.
She said that people would just drop off their animals without even asking her and that every morning as she went out into the field, there would be more horses than the night before.
A large proportion of farmers and ranchers have been struggling to grow hay this year due to the drought that stretches from Ohio west to California. Salter said a company that donates to her rescue got 46 bales last year from a 22-acre plot but this year expects only six or seven. Recent wildfires in northern Nebraska have added to the shortage, forcing ranchers to choose between feeding their horses and more profitable cattle.
And it is not only getting more difficult to obtain hay for the rescued horses, but the hay she is getting is now more expensive. She roughly paid $110 last year for a bale that weighed 1,200 to 1,500 pounds. This year, the price is about $260, and it takes seven or eight bales each week to feed the horses in her care.
This seems to be an issue that is affecting horse rescue centres across the nation and it is hard to see when the situation is going to change.
News