Horse racing's queen mothers: Zenyatta, Rachel Alexandra in broodmare battle to deliver ultimate foals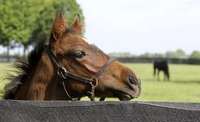 US Horses
They are two of the most remarkable fillies to ever crackle across a racetrack. Now they're trying to become two of the greatest mothers and broodmares.
There's royalty in the Bluegrass this spring — and it has nothing to do with the Kentucky Derby 138 invitation list. Rachel Alexandra, the 2009 Horse of the Year, and Zenyatta, the equally dazzling filly who succeeded Rachel as the top horse of 2010, have delivered colts being nursed toward the 2015 Derby.
Rachel's colt is a boundlessly energetic son of Curlin, the two-time Horse of the Year who, like Rachel, ran for Jess Jackson.
Jackson died a year ago, not long after he and his wife, Barbara Banke, bred their two champions at Stonestreet Farm, which rolls across 470 spectacularly emerald acres on the northwest edge of town.
"They were trying to create the ultimate horse," said Stonestreet manager Garry Megibben. "It was always Mr. Jackson's dream to breed a champion to a champion."
The bloodlines of Zenyatta's colt are equally impressive. He is by Bernadini, the sensational young sire who stands for $150,000.
From the moments they were born (Rachel's colt on Jan. 22; Zenyatta's on March 8), racing fans have gone out of their feed tubs in anticipation of the longshot proposition of the colts becoming the game's next superstars. After Stonestreet invited fans to submit names for Rachel's colt, they received 6,521 suggestions.
The contest closed Feb. 29. Amy Kearns, who handles marketing for Stonestreet, said she still receives at least 10 suggestions by email every day. Some include audio with imaginary race calls with their suggested name. At Stonestreet, he has been nicknamed "Taco," but Banke and co-owner Hal McCormick plan to pick a name by July.
"It's hard not to imagine him as a racehorse," said Ricky Robinson, who works with Rachel and her frisky bay colt every day at Stonestreet, occasionally fussing at him when he nibbles on a fence. "He gets out there running around, and you just imagine what he can be when he gets to the track.
"It would be remarkable if he was successful. If Zenyatta's foal gets going, maybe they could have a rivalry."
There are no guarantees. The game is as risky in the breeding shed as it is at the $2 window. Rachel Alexandra and Zenyatta aren't the first champion fillies to be bred to the finest stallions. They're only the latest. And the past performance charts from other attempts confirm that breeding is filled with dreams and crossed fingers.
In 1980, Genuine Risk shocked the world by becoming the second filly to win the Kentucky Derby. She was later bred to the great Secretariat, winner of the 1973 Triple Crown. Her foal was stillborn. She later foaled two other named colts. Neither made it to the racetrack.
Winning Colors was the last filly to win the Derby. She foaled 10 horses. Seven eventually raced, but the best win was a Grade III stakes race in Japan.
Don't forget Lady's Secret, another filly who was voted Horse of the Year in 1986. Her first two trips to the breeding shed were with Alydar, runner-up to Affirmed in all three 1978 Triple Crown races, and who became a premier stallion. Their two offspring raced three times, never finishing first, second or even third.
Rachel Alexandra and Zenyatta, who resides at Lane's End Farm, will get every opportunity to script a different story. Rachel is already back in foal to Bernadini, and Zenyatta was bred back to Tapit, who stands for $125,000.
"You hope and dream for them like you do your own kids," Megibben said. "You hope you see the great qualities, and I think everything about (Rachel's colt) really resembles her so far. I see him every day, side by side, all day long and he looks like his mother, long rangy body like she had. Even that long stride is kind of like hers.
"The Derby, the Breeders' Cup, something like that is what you dream of. I think a lot of people around here already know the date of the 2015 Derby (May 2). The odds (against it) are incredible. But he'll get as good of an opportunity as a horse can get from each stage of his life."
At Stonestreeet, Rachel and her colt will remain together in their 16-by-16 stall until June or July, when he'll be weaned and Rachel will be moved across the farm. Until then, they're fed in the morning and late afternoon — surrounded by 24-hour supervision. About 8 a.m., they're led into a paddock where they socialize with Hot Dixie Chick, another Stonestreet broodmare, and her colt. Sometimes two other mares and their colts join them.
"You try to make him confident and keep him healthy," Megibben said. "You want him to interact with other horses and grow up like a normal horse."
A normal horse with super-sized expectations.
Source: Courier-Jounal
News