Horse racing notebook: 18-year-old jockey bursts onto scene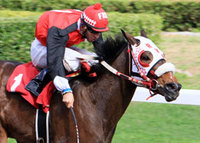 Horse racing
When a newcomer arrives, the normal question is, "From where?"
Anyone watching 18-year-old jockey Francisco Ramirez Jr. last Saturday knows the answer. Ramirez seemed to burst in from nowhere.
Obscure but determined to build credentials, he rode in three of Sam Houston Race Park's four stakes races. He won two and just missed taking a third.
On the richest night for quarter horses, Ramirez celebrated the best night of his riding career. For two wins and a second place, he collected almost $17,000.
Source: Chron.com
News