Horse racing industry takes a tumble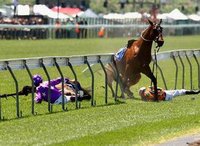 Horse Racing Industry
The horse racing industry in Saskatchewan is in a state of alarm after the provincial government indicated it's reining in the money it gives the industry.
Glenn LeDrew, president of the Saskatchewan Standardbred Horsemen's Association (SSHA), said the provincial government has indicated it will cut off the $1.5 million it gives to the industry after this racing season.
There are three tracks in the province: Saskatoon's venerable Marquis Downs, Cornerstone Raceway at Yorkton's exhibition grounds and the new West Meadows, on Pinkie Road on Regina's western edge, which drew what LeDrew said was upwards of 700 fans to its four Sunday race days last autumn.
But what happens after this season "is a really good question," LeDrew said in a telephone interview Monday.
He said the SSHA will meet with all stakeholders within the next month to talk about keeping the industry alive after the money stops flowing.
"We really hope so," he said, adding that the loss of this money, "is a pretty big hit to our industry."
"We're just not certain how everything is going to shake out yet."
Jane Grainer, president of shareholder-owned West Meadows, wrote Monday that, "I guess you could say the government has blindsided the horse racing industry as a whole."
"Horse racing has been around for over 100 years in Saskatchewan. Now, the Sask. Party government wants to take away our parimutuel tax, which comes from the wagering on horse racing. The larger portion ($857,000) of the funding doesn't come from anyone's pocket unless they wager on horse racing. It is a tax the government has on the wagering of horse racing and, for as long as I remember, it has been given back to the horse racing industry.
"The grant portion ($600,000) pays for many people to be employed in the industry, plus the kickback to the province from horse racing is even greater."
In an email to the Leader-Post on Monday, Grainger wrote that "it just doesn't make sense" for the province to do this to an industry that's growing and "has made a huge comeback" since the closure of Queensbury Downs at what's now Regina's Evraz Place.
"Mr. Wall speaks often about 'the Saskatchewan Advantage.' Well, what about the large number of horses that will be negatively impacted by this government's actions - not to mention horse owners, trainers, drivers, grooms, other businesses such as veterinarians, tack shops, feed suppliers, farriers, livestock and equipment dealerships? These are people from all around Regina, Saskatoon, Yorkton, Swift Current, Kindersley, Davidson, McNutt - and more. We have race fans and horsemen that come here from B.C., Alberta, and Manitoba. This generates a lot of money throughout our province."
"We have people that have invested in new horses for racing and that have bred mares for future racing programs. Now, they are wondering what will happen to these horses and foals if racing no longer exists."
LeDrew said the industry affects between 300 and 500 persons in various ways, and provides considerable economic spinoffs for the province through the purchase of supplies and out-of-province horsemen's use of restaurants, hotels and the like.
Added LeDrew: "We're going to try the very best that we can to try to find a way for the industry to survive."
Source: The Star Phoenix
News