Horse put to sleep after injected with Gasoline. WATCH THE VIDEO HERE
News
•
Wednesday 11 June 2014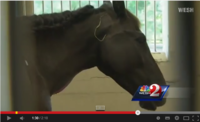 A 17 year old rescue horse in Florida has been put to sleep as somebody injected her with gasoline. Jolean who is a Paso Fino horse, had blood on her shoulder last Monday which was spotted by her owner, John Hoogerhyde who thought it was a insect bite.
Soon after, Joleans neck started to swell so bad her stomach was completely swollen and she couldn't lay down. Jolean was put to sleep two days later.
"[The person who performed the necropsy] said there's so much gasoline, it smelled like someone had poured a five-gallon can of gasoline on her," said Hoogerhyde
Hoogerhyde told the Daily Mail 'I noticed a blood spot on her shoulder last Monday but it looked like a bug bite. I gave her medication but she began to swell and bloat. Two days later, she couldn't stand and we had to take her to be put down.
'The vet who did the autopsy asked me: ''Did you pour gasoline on this horse?'' which I told him I would never do.
'The vet said the smell of gas when they opened Jolean up was overpowering.'
Hoogerhyders neighbour, Leah Greenleaf has a six year old horse who also was injected with the gasoline. Kate has been in to see the vets and has had surgery to remove gasoline from her body, however she is awaiting more surgery to remove the contaminated flesh. It is apparently still 'up in the air' if the horses will survive.
The police are looking into the investigation and are trying to find the people responsible. Hoogerhyde has moved his other horses to a safer location that is under surveillance.
We really hope that Kate keeps strong and pushes through and comes out the other side…
News