Horse-powered farming on the rise
News
•
Tuesday 23 September 2014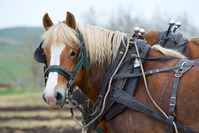 Horse power is on the rise among small-scale farmers, and we don't mean the size of their tractor engines. In the past mainly associated with amish farmers, horse-farming equipment manufacturers are reporting increasing sales and a rise in the number of non-Amish customers. Why is this?
Sheep farmer Donn Hewes, who works with horse powered equipment instead of machinery, told the Associated Press that although he admits working with horses takes more time and effort than tractor farming, it is beneficial in other ways.
"People always want to know how many dollars an hour can I make, and can I really profit from farming with horses," said Hewes. "We can, but to me, that's the wrong question. I benefit in so many ways. I benefit from working with young stock, building fertility for the farm, and all the time I get to spend enjoying doing what I'm doing."
There are also other benefits to using horses instead of engines, such as the absence of fossil fuels and being more cost effective. Not to mention being considerably more attractive than a 13' piece of metal.
Pioneer Equipment, which is an amish manufacturer of horse-drawn implements have recently released the Homesteader which has interchangeable parts for plowing, harrowing, discing, planting, cultivating and harvesting crops.
Stephen Leslie, who runs a horse-powered dairy and vegetable farm said he has seen a big increase in horse powered farming over the last 20 years. "When we started it was hard to find anyone with knowledge or equipment," said Leslie, whose book "The New Horse-Powered Farm" was published in 2013. "Now, the networking is incredible."
Would you use horse power over engines? If so, you can browse the draft horses for sale and farms for sale we have on our website.
News