Horse pen stolen from non-profit rescue organization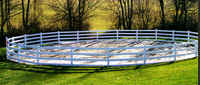 Horseclicks
A woman who offered a place for unwanted and neglected horses had a piece of equipment stolen from a property she was renting.
Nicole Shaw started a non-profit rescue organization in 2010 to give some relief to the horses no one wanted.
In the process of moving to a new farm, she discovered a big ticket item missing.
"It's really a bummer that now I have to worry about replacing a high priced item that someone just stole, it's disappointing," Shaw said.
When Shaw started Bright Star Horse Haven Rescue and Sanctuary she was already donating and helping out other rescues.
"And I just thought, you know what, maybe I can do this myself and I just kind of jumped into it, and it all started like that," Shaw explained.
In the past year and a half, she's been providing a home for horses and working on getting them adopted.
In the process of providing more pasture for a dozen rescued horses, Shaw said a round pen worth about $1500 was stolen from the barn she was previously renting.
"It's a high-priced item, and [it's] not easy for a non-profit rescue group to replace."
Shaw got the pen from a friend and paid about $800 for it, but with a lot of money coming out of her own pocket to go into the rescue organization, she said it's essential.
"That's what I use for training, for working with the horses that need some more one-on-one and close attention like that, and now we don't have that anymore because somebody took it," Shaw said.
Shaw told 6News she is going to try to raise donations and will hold a fundraiser to help replace the pen.
If you would like to contact the rescue for donations or for more information regarding the rescue: brightstar@atlanticbb.net
The rescue also has a website: www.brightstarrescue.org and Facebook: https://www.facebook.com/pages/Bright-Star-Horse-Haven-Rescue-and-Sanctuary/198250966855315
Source: WJAC TV
Browse horses for sale or place an ad on Horseclicks now.
News