Horse owner risked all to stop runaway wagon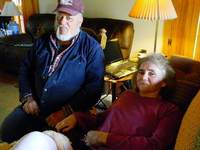 US Horses
Joan Perkins is known as the "Horse Lady" who's lucky to be alive.
She's also considered a hero.
The 51-year-old Epping horse farm owner miraculously survived being run over by a hay wagon after she tried to stop two runaway draft horses during a hayride at Applecrest Farm Orchards last September.
Perkins doesn't remember her actions that day, but she knows her instinct was to save the lives of the riders on the hay wagon.
"My instinct was, 'Somebody's going to get hurt,'" she recalled. "I wasn't a hero. I just did something that came to me naturally. It was instinctive. I did what I did and I wasn't thinking of myself."
For her actions that day, Perkins will be given a 2012 Union Leader Hero Award at a ceremony Thursday.
Perkins will receive the award as she continues to recover at home — eight months after she was critically injured and her husband and children were told by doctors that she might not survive.
The accident at the Hampton Falls apple orchard happened on Sept. 25 when Perkins and her husband, Lloyd, who own Ledgewood Belgian Farms, were each driving a hay wagon filled with families — as they've done for many years during the fall season at Applecrest. The Perkinses own the horses, but the wagons are owned by Applecrest. There had never been a problem with the wagons before, the couple said.
At one point during the hayrides, Perkins had to use the restroom, so her husband asked Gregory Dow of Nottingham, a friend who had driven the horses many times before, to take over her horses until she returned.
Dow made a couple of trips without a problem. After picking up another load of riders, Dow took off down a slight hill as Lloyd was returning. Lloyd, 63, said he was about 75 feet away when he saw the end of a wooden pole on Dow's wagon drop to the ground after it broke off. The horses panicked.
Realizing there was trouble, Lloyd turned his horses and moved under an apple tree, hoping his wife's horses — now being driven by Dow — would go by him, but they didn't.
Lloyd said the horses turned toward him and ran into his pair of horses, knocking one of his horses down onto the pole on his wagon, causing it to break as well. Dow also fell off.
Lloyd said he then jumped off his wagon and onto one of his wife's horses, but was thrown off and landed on his horse, which was on the ground.
He managed to crawl underneath his other horse to get to the other side of the wagon, at which point, Joan's horses took off. They later stopped.
Lloyd was dragged by his horses until the back wheel of his wagon ran over his leg and he let go of the reins. From the ground, Lloyd could see a woman running toward the front of his horses, but didn't know it was wife.
"The horses were just starting to run. She jumped in front of them and was hollering "Whoa!' to the horses, and then I see who it was. I see it was my wife. When she actually kept hollering at them they kept slowing down and slowing down, and then I see a horse step on her foot and she went down in between them," Lloyd said.
The wagon ran over Joan, but her actions had steered the horses just enough so that they turned into an apple tree. They knocked the tree down and stopped. Riders were then able to get off safely as Lloyd crawled over to his wife. A nurse who was on the wagon and others ran over to help her and Dow until emergency personnel arrived.
"The way I look at it, if she did not stop those horses, and they got into the open field at the end of the orchard, there were going to be a lot more serious injuries than just my wife and Greg Dow," Lloyd said.
The accident left Joan with a brain injury that has caused short-term memory loss, a broken back, collar bone and pelvis, collapsed lungs, chest injuries, a torn bladder, damaged pancreas, dislocated right knee and bruising on her left leg. Nerves also had to be severed during surgery on her pelvis, causing her right foot to drag when she walks. She must wear a brace on the foot until the nerves heal and uses a walker or a half-crutch to get around.
She still receives physical therapy daily and must spend six to eight hours a day with her right leg sitting in a machine that continuously moves it back and forth to improve the flexibility in her knee before she can undergo knee replacement surgery.
"I'm here," Joan Perkins said. "If this is what I've got to deal with, I'll deal with it and get the best that I can possibly get."
She has been praised for her actions by riders on the wagon that day, as well as Applecrest owners.
"She basically put herself in harm's way and tried to essentially arrest a team of horses and calm them down. I'm not certain to what degree she was successful in doing so, but I seem to think that had she not done that courageous act, the situation could have been a heck of a lot worse," Todd Wagner, whose family owns Applecrest, said shortly after the accident.
Source: Union Leader
News