Horse maimers deserve no mercy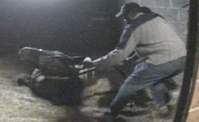 Horseclicks
Tennessee Walking Horse abuser Jackie L. McConnell pleaded guilty to one of 52 counts before walking out of the federal court building in Chattanooga.
If the case follows its current course with a September sentencing hearing, he will continue to walk free — unlike the horses that have been under his "care" for years, which will be crippled for life.
The very name of this beautiful, gentle breed has become a twisted joke, thanks to the Jackie McConnells who populate the show-horse industry. These horses limp from having searing chemicals applied to their flesh and suffer from years of beatings by trainers as a way to condition them to hide their pain from inspectors.
McConnell's crimes and those of three other men were captured on videotape and released last week by the Humane Society of the United States, but despite the public outrage over what these individuals have done, prosecutors plan to let them off with no time served.
This coddling of sadists is a disgrace to the state of Tennessee, and it represents a failure of accountability on the part of the federal court system; federal and state policy makers; and the show-horse industry.
Industry leaders continue to condemn soring, blaming it on a small number of trainers. But words are not enough. Even SHOW, the industry-sponsored inspection organization that had some impact on abusers in the past, cannot be effective if horse-show operators don't allow them to conduct inspections.
Rather than empty talk, industry leaders could weigh in in McConnell's case — his plea deal still must be approved by a U.S. district judge. They also could push for state legislation that would punish soring in Tennessee.
Where are our state government leaders on this issue, anyway? It is interesting that state lawmakers are content to leave show-horse inspection to (underfunded and understaffed) federal regulators, but in numerous other industries are intent on reversing federal rules or replacing them with state regulations.
The people of Shelbyville, the Middle Tennessee city that is the center of the Walking Horse universe, are undoubtedly embarrassed by the scandal. For those who have lived and worked in the industry for years, who love horses and hate the abuse, there is sympathy. But they, too, must show courage and say that this practice cannot continue in their community. The jobs, the entertainment and the prize money that horse shows generate are worthless if they come as a result of tormenting these creatures.
The only way soring will end is if these abusers are made to pay with prison time and automatic lifetime bans from ever handling horses again.
If a coach drugged and whipped your son or daughter to make them better athletes, the winning wouldn't matter; you'd want the coach in prison — or worse. Why is it OK for these trainers to get off with a wag of the finger? Their "athletes" did nothing to deserve torture, either.
Source: The Tennessean
News