Horse Lovers Bucket List
News
•
Tuesday 20 August 2013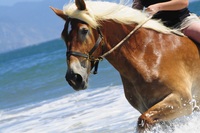 Have you ever thought about your "equine" bucket list?
Here are a few ideas to get you started.
· Get my horse on the cover of a magazine
· Do an equine massage class
· Learn how to Barrel race
· Gallop on the beach.
· Win a blue ribbon, even if it's for the egg and spoon race!
· Try your hand at cattle work. Find out what it means when they say a horse is "cowy."
· Fall off and get right back on again.
· Come to a sliding stop on a well-trained reining horse.
· Take a lesson with your equestrian idol.
· Nurse a horse through a crisis and back to full health.
· Experience the smooth ride of a gaited horse.
· Attend the Kentucky Derby dressed to the nines—including hat!
· Tackle a trail accessible only by horseback and enjoy the view.
· Take your dream vacation on horseback.
· Master the sitting trot.
· Watch polo. Even better, try it out.
· Wake up to a whinny every morning.
· Fly down the track on a thoroughbred.
· Meet one of your favorite famous horses in person.
· Ride bareback, bridleless ... or both!
· Go to a dude ranch or cattle drive
News