Horse Chased By Police Through Busy New York Streets (Video)
News
•
Tuesday 21 October 2014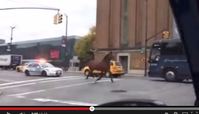 We've all seen a high speed car chase, but have you ever seen a high speed HORSE chase? The group called New Yorkers for Clean, Liveable and Safe Streets (NYCLASS) has just released a video showing a runaway carriage horse galloping through Eleventh Avenue near 37th Street at about 8.30am Sunday.
The horse, called Bernie, is chased by two NYPD patrol cars down the road, up 10th Avenue, west on 39th Street and then boxed in against a building on 11th Avenue. It is not certain why the horse broke free, some claiming it was while it was being bathed and the owner claiming that his halter broke from wear and tear.
"This is the latest example of why horse drawn carriages are not just inhumane but entirely unsafe in a city congested with cars, trucks and buses," Allie Feldman, Executive Director of NYCLASS, said in a statement. "It's time for the City Council to act and get the carriage horses off the streets of New York City."
Bernie is said to be doing fine and is already back at work.
Bill de Blasio, current mayor of New York City, promised to ban carriage horses during his first month of office, but has yet to take action. He has recently told reporters that they are about to introduce some legislation regarding carriage horses to get the ball rolling.
However some still support the carriage horse industry, including actor Liam Neeson, arguing that it provides good jobs and is a part of history.

What do you think?
News