Horse Buyer's Agent to The Stars Reveals All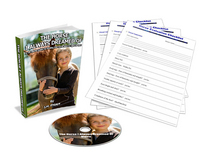 Wonderful news for first-time horse buyers!
Imagine experiencing the joy of finding your perfect horse... The one that ticks all the boxes - The horse you always dreamed of. Can you already see yourself hacking down those country trails, or winning that rosette? Hunting down, and buying, a new horse or pony can be an amazing ride, but unfortunately, also a very disappointing one. We've all heard horror stories about people who were conned out of too much money or ended up with a horse that didn't suit them.
But how do you know what to look for? Which questions should you ask and how can you tell if the horse is sound? (Janet) J.M. Phipps is an experienced international equestrian agent who's helped some of the world's top professionals find and buy their dream horses. Many of her clients horses have gone on to win major competitions and were eventually sold on for gigantic sums of money.
Her brand new information product "The Horse I Always Dreamed Of" is a complete, step-by-step system to help you buy the horse or pony that's right for you. This easy to follow program consists of a manual, high-quality instruction video and 3 horse buyer's checklists and can be instantly downloaded to your hard drive. The Horse I Always Dreamed Of is available for $27 at thehorseialwaysdreamedof.com
News