Help the Hampshire Herd! Abandoned Show Horses Need Homes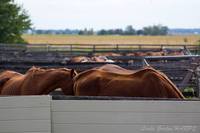 75 registered Quarter Horses need rescuing
Calling all horse lovers! HorseClicks wants to help the Hooved Animal Rescue & Protection Society and Hands & Hooves Rescue to try and rehome seventy-five recently abandoned registered Quarter Horses located in Hampshire, Illinois. But we need your help.
The horses were owned by a leading breeder in American Quarter Horses who won national halter titles at shows throughout the country, but following the death of the owner's husband and daughter they gave up the family's farm, leaving the 75 horses ownerless and homeless!
Until now they have been relocated to a hampshire equine facility that doesn't have enough space for them, leaving thirty horses confined to stalls with almost no turnout and the rest kept outside in four small paddocks with insufficient shelters, excess manure, and very limited human handling. All the horses are registered Quarter Horses and most are halter broke and range in age from 6 to 27.
"We have less than a month to get 75 of these horses off the leased property and into permanent homes. We are pleading with the horse community to come and adopt these animals and give them a new beginning in life," said Donna Ewing, founder and president of HARPS.
The two volunteer organizations have taken on the task of caring for the horses -- including feeding, cleaning and turnout, veterinary care and farrier work -- but they can no longer accommodate them.
Because finding homes for horses is one of our biggest passions at HorseClicks, we are callling on you to help us Help the Hampshire Herd before winter! If you have space on your horse property or a spare stable on your farm or know someone who does, or if you are interested in donating to help find these horses a home please contact HARPS at (847) 382-0503, or visit www.harpsonline.org.
Photo's courtesy of HARPS
News