Heineman says no to historic horse racing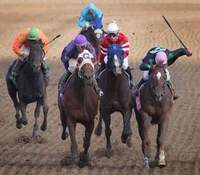 Horse Racing / Horse Gambling
Gov. Dave Heineman vetoed a bill Monday that would allow gambling on old horse races.
The governor said the bill proposes to expand gambling beyond what the Nebraska Constitution allows and "contradicts the spirit of the live horse racing provisions" in the Constitution.
Legislative Bill 806 would allow people to bet on previously recorded horse races using machines that resemble video lottery terminals.
Bettors would receive information about the horses' past performance, but not the horses' names or the dates, places or times of the races.
The machines would be allowed only at racetracks.
State Sen. Ken Schilz of Ogallala said he expects that supporters will attempt to override the governor's veto, even though he acknowledged that it would be difficult.
LB 806 passed with 26 votes in support and never got more than that at earlier stages of debate. To succeed, an override needs 30 votes.
"I know it looks like a pretty uphill climb, but I think certain efforts are worth doing," Schilz said. "We'll just have to see how the chips fall."
Sen. Bill Avery of Lincoln said that he didn't expect an override to be approved and that an attempt would waste lawmakers' time.
"I'm pretty happy about (the veto)," he said. "I was kind of expecting that."
Avery was among the opponents of LB 806 who argued that it amounted to an unconstitutional expansion of gambling. Backers said the measure was critical to sustaining the state's horse racing industry and the jobs that go with it.
In his veto message, Heineman questioned whether gambling on historic races fit within the constitutional provision allowing wagering on simulcast races.
"This exception has always been construed to apply to live horse racing, not to slot-machine betting on past races," he said.
The governor also raised concerns that the bill would improperly delegate legislative authority, by making the State Racing Commission responsible for continuing licenses for the machines.
Under the bill, the licenses would expire unless a new Lincoln track were built and either live racing dates expand or purses increased within four years. The State Racing Commission would be responsible for making that determination.
In addition, Heineman questioned a provision that would let the machines continue operating for a year if a court found that they amounted to Class III gambling. The provision was added to address concerns that historic horse racing machines would open the door to casino gambling on Indian reservations.
"If a court rules that LB 806 constitutes Class III gaming, which is not allowed under our Constitution, then the bill would be immediately invalid," he said.
Heineman and state lawmakers have already squared off this session on a veto.
Last week, over the governor's veto, lawmakers approved $2.5 million to pay claims filed by child welfare service providers.
At least one other veto is expected, on a bill that would allow cities to raise their sales tax by a half-cent with voter approval.
In addition, Heineman has promised to veto a bill that would provide prenatal care for the unborn babies of illegal immigrants.
Source: Omaha
News