Hay Prices Rise and Horses Get Hungry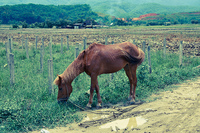 2012-10-09
Is there a hay shortage?
Horse owners are finding it hard to provide enough food for their horses, therefore leaving them hungry and malnourished. They price of hay has risen, and as we move into winter, it's a worry that this situation is just going to get worse.
The number of horses that the 'The Human Society of Huron Valley' are looking after has increased to 12 from the original 3 simply because owners can no longer look after their pets.
They are now trying to enforce a program to help people look after their horses and provide enough food.
Source: freep.com
Photo by Mills Baker
News