Federal judge temporarily bans helicopters in horse roundups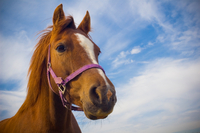 The U.S Bureau of Land Management has been temporarily banned from using helicopters to gather mustangs. The decision was made by a federal judge who said that they were no longer allowed to use this method to round the horses that are targeted in a roundup that is already underway around 150 miles northeast of Reno.
U.S District Judge Howard McKibben granted part of a temporary restraining order sought by horse protection advocates after they said that the BLM's own rules prohibit helicpoter roundups during foaling season. He said that he would allow it to continue in the southern part of the Jackson Mountains, due to the fact that the BLM has proven an emergency due to the current drought.
The ruling means that no helicopters can be used in the northern half of the target area which covers over 400 square miles east of the Black Rock desert. Once the foaling season ends, around July 1st, helicopter use will most probably be allowed again.
The same judge issued a temporary order which prohibited aircraft use at another roundup in Nevada last summer. This was after a group of horse advocates caught a helicopter on camera flying too close to the animals which was a direct violation of federal law.
Both last summer's ban and this more recent one have come in connection with a larger lawsuit filed by Laura Leigh of Minden, Nevada, who is the founder of Wild Horse Education, which is an internet clearinghouse for information on roundups.
Leigh argued, saying that the federally protected horses have more of a right to remain on the range than sheep and cattle.
Nevada is currently home to around half of the estimated 37,000 wild horses and burros that are in the 10 western states as of February. However, the BLM has argued that's about 10,000 more than the range can sustain region-wide.
Petersen said the current ruling wouldn't have much impact because BLM likely would still be concentrating on horses in the southern area prior to July 1.

Source: ABC News
News