Equine Soccer Gaining Popularity In Montana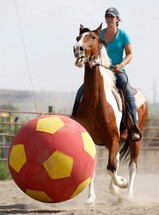 There are many ways to ride a horse: chasing cows, trail riding, racing, polo, horse shows, pleasure rides, drill teams, barrels, reining, jumping, endurance and more.
Now it seems that soccer has been added to that list and is being played across the U.S. and has got a hoof hold in Montana. If you're like us and have never heard of the sport, here's a brief round-up of the rules:
The ball can be moved using the nose or foot of the horse and can be kicked by the rider.
The ball must be moved through the goal posts for a point.
The number of players can vary from 1v1 up to 8 on each side.
If the ball goes out of bounds, it is thrown in by an unmounted person or referee.
There is even an Equine Soccer League in America, the AESL, which offers host facilities for games if you are a member. Equine soccer is an affordable activity that the whole family can enjoy regardless of skill level or horse or rider, and is good for reinforcing horsemanship skills. Game on!

News