Dullahan, Union Rags gear up for Belmont Stakes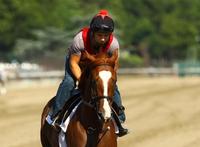 Horseclicks
When Javier Castellano and John Velazquez showed up in the Belmont Park jockeys' room to ride Sunday, their conversation ultimately turned to what they'd done that morning: Which was working their new mounts for the first time in preparation for Saturday's Belmont Stakes.
Triple Crown hopeful I'll Have Another looms as the heavy favorite, but off their eye-popping works, look for Dullahan (Castellano) and Union Rags (Velazquez) to have plenty of supporters at the mutuel windows.
With Castellano up, Kentucky Derby third-place finisher Dullahan stole the show at Belmont Park, uncorking the type of work he displayed before winning Keeneland's Toyota Blue Grass.
Dullahan cruised a half-mile in 45.97 seconds - by far the fastest of 66 works at the distance. But then Dullahan galloped out five-eighths of a mile in 58.91 seconds - which would have been the "bullet" for that distance. (In fact, the fastest official five-furlong work was Breeders' Cup Ladies' Classic winner Royal Delta's 59.55 seconds.)
Some 130 miles away at the Fair Hill training center in Maryland, Union Rags also hit it off with Velazquez, powering five-eighths of a mile in 59 seconds while working in company over the synthetic surface.
After they told one another about their workouts, Velazquez said he told Castellano, "'Well it looks like we've got a good chance in the Belmont.' They're two fresh horses, coming in really good and training really well. May the best horse win. It's shaping up as a really good and interesting race."
Castellano gained the mount on Dullahan when owner Jerry Crawford and trainer Dale Romans decided to make a jockey change after Hall of Famer Kent Desormeaux was taken off his mounts at Belmont May 18 after failing a breathalyzer exam. Trainer Michael Matz and owner Phyllis Wyeth replaced Julien Leparoux with Velazquez after the highly regarded Union Rags finished seventh in the Derby, his second straight race in which the colt found himself mired in traffic.
Both Dullahan and Union Rags were kept out of the Preakness to train up to the 1-1/2-mile Triple Crown finale.
"I don't know much about the horse, but Dale knows him better than anybody, and he was really happy," Castellano said. "If he's happy, I'm happy, too."
Dullahan's reputation is as a closer, though Romans long has said the colt can employ more early speed if the situation dictates.
"He felt so good today," Castellano said. "I felt like he was a sprint horse, not a come-from-behind style… He was full of life, sharp. When they told me the time, I was in shock. I said, 'No way it can be that time.'
"He was very relaxed and comfortable, not rank at all. Usually horses when they put up those kinds of times, they're rank and in the end they're flat. He wasn't. I was just sitting still. He was enjoying it. Anybody ask me how fast did I think he went, I'd have said, '48, 49.' The way he did it was most important to me. The way he did it today, he showed me he could be in any position in the race."
Romans noted that Dullahan worked five-eighths of a mile in 57 2/5 seconds before the Blue Grass.
"When he works like that, he runs big," he said.
Trainer Michael Matz was appreciative that Velazquez made the trek to Fair Hill to get on Union Rags, who last fall was the impressive winner of the Grade I Champagne (ridden then by Castellano).
"I'm glad Johnny made the effort to come down and sit on him," Matz said. "Johnny seemed to like him and he seemed to do that easy enough."
As with Castellano, Velazquez said Union Rags "went much faster than I thought we went."
"I couldn't have asked for a better work," he said. "But he did it really easy. I had a target for me until the eighth pole. I didn't ask him to do anything. I basically just gave him his head and he went by the other horse really easy and galloped out very well and came back very well. I was very impressed."
Daily Racing Form's David Grening clocked Union Rags going the last quarter-mile in 23.82 seconds and galloping out six furlongs in 1:12.38. Immediately afterward, he tweeted "Game on!" an apparent reference to serious competition for I'll Have Another.
"I think so," Velazquez said. "I mean, he was one of the top choices going into the Derby. I think if he just goes back to his old form and gets a good trip and shows the talent he has, he's going to be really tough. It's going to be a very interesting race, let me tell you."
I'll Have Another update: I'll Have Another will move this morning (Monday) after training into the Belmont stakes barn mandated by the New York State Racing & Wagering Board. Horses have to be in the barn by noon Wednesday. Trainer Doug O'Neill said that he hopes the tightened security helps bring the focus of attention on the horse, rather than himself.
"I am kind of looking forward to running him in a situation when you're in a fishbowl and everyone who has thought negative thoughts about me can realize it's not about me, it's about the horse," he said. "And they can watch him lead up to a historical event and, hopefully, watch him kick butt, in a fishbowl."
Source: USA Today
Browse horses for sale or place an ad on Horseclicks now.
News