Decoding Horse Behavior to Prevent Accidents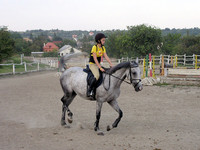 Horses can't speak to us, at least not with their voices, but that doesn't mean they don't provide us clues to their thoughts and emotions. Kicks, stomps, neighs, even ear direction can be a key indication of horse emotions. Learning to read those signs can help riders to avoid injury.
Half of the accidents that occur on horses are due to falls while riding. The other half occur when the rider is standing next to the horse, including bites, kicks and squeezes. Many of these injuries can be avoided (potentially cutting the number of total horse injuries by half) if riders knew how to interpret horse behavior.
Studies conducted on the subject of rider/horse communication found that riders interpreted behaviors correctly about 72% of the time, with the youngest and oldest riders (5-14 and 60-90 respectively) scoring lowest.
The study indicated that a continuing knowledge of horse behavior can assist riders young and old. Riding schools have a major opportunity to place a greater emphasis on teaching students about horse behavior before they head into the barn.
News