Creative Estate Agent Turns to Horse Clicks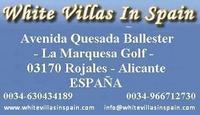 Creative Estate Agent Turns to Horse Clicks in Order to Sell his Property.
With the housing market still struggling, home owners and estate agents are seeking new ways to market their properties. One creative estate agent Sandra O'Neill, proprietor from White Villas in Spain, decided to turn to Horse Clicks for help
White Villas in Spain, whose fabulous Horse Property in Orihuela – Alicante has been on the market for several months, thought that it would be good to be creative and in addition to conventional means list its property on Horse Clicks.
"HorseClicks.com has been very helpful, and they have a growing number of people visiting their site. They have also used their social media platforms to market the property, and I'm confident that I will get a sale sooner rather than later."
The property market has been stagnant for some time, which is largely due to the economic pressures that face the country at the moment. However, Sandra, from White Villas in Spain, firmly believes that people are still buying, but real estate agents need to get more creative in their approach.
"It can be a numbers game. Potential buyers may not necessarily come to horseclicks.com to look for a property, but it is great for SEO purposes. It is also a great site, so people come looking for great deals. I'm hoping someone, somewhere will see the property, and put in an offer."
"People want good deals, and property owners and businesses proprietors are looking to other means to make sales. It is unclear at the moment when things will ease economically. Creativity is the key."
Sandra O'Neill
White Villas in Spain.
News