Charges dropped against owners of high-end horses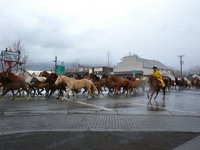 Prosecutors have dropped animal neglect charges filed against owners of Portuguese Lusitano and Andalusian horses rescued last year from a ranch in a northeast Oregon county.
Wallowa County Sheriff Fred Steen seized the 120 horses from the snowbound ranch north of Joseph amid concerns about a lack of hay and water.
The rescue at the 500-acre Carpe Diem Farm in February 2011, and caring for the horses until June, cost the county $30,000 said Wallowa County District Attorney Mona Williams of Enterprise.
The ranch owner, 78-year-old Byrde Lynn Hill of Bellevue, Wash., and her former husband, Frank Baxter, initially faced 100 counts of misdemeanor animal neglect.
However, Baxter appeared in court and denied ownership of all but a few of the horses, Williams said.
Hill was declared mentally incompetent and a Washington state court appointed a guardian to care for her, Williams said.
She had never been served with a warrant because the charges were misdemeanors and she lived out of state, Williams said.
A court date was scheduled earlier this month.
However, Hill's medical condition and the potential difficulty and expense to establish responsibility for the herd made it pointless to continue with the criminal case, Williams added.
"The horses were the victims, and they were all safe and taken care of," she said.
The sheriff seized 18 stallions, 38 mares and foals, and 64 mares and geldings.
Deputies cared for them for several weeks at the farm after repairs were made to the water system and hay was trucked in.
Sheriff's auctions recouped money to satisfy civil liens and pay for hay, veterinary bills, transportation and wranglers to move the horses.
The mares brought $3,500 to $4,000 at auction and one stallion sold for $20,000.
Wallowa County recovered all but $12,000 spent to station deputies at the ranch.
That expense could not be reimbursed, Williams said, because it came before criminal charges were filed.
Source: Register Guard
News