Change of plans for Wellington Equestrian Village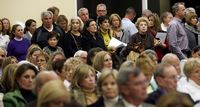 Horseclicks
It's been a heated issue since the beginning of the year, as a community has been divided over a proposed 96-acre Equestrian Village.
The developer, Mark Bellissimo's plan to build a 4-story hotel, shops and restaurants to surround the Equestrian arena, is now off the drawing board.
Ellen Rawlings is very happy about the news, but didn't expect Bellissimo to pull the hotel portion off of the project.
"I was at all the meetings," she said. "I just didn't support the hotel and shops. I support the dressage."
The plan was first proposed in January, and since then Rawlings has opposed the project. She even attended the three day meeting and wore a red shirt with "No Equestrian Village" screen printed on it.
"Our view was I don't feel we have the support for the commercial elements," Bellissimo said. "I think universally every one said they support the dressage."
Bellissimo is still bringing his proposal regarding the master plan for the dressage arena to the Village of Wellington council next week. Construction is currently on hold.
"Hopefully this gives us an opportunity to restore civility to a very emotional environment," he said. "We're not in any rush, so we can step back and create a project that's a little more scaled down and little more conducive to what people want."
In the March mayoral and council elections, the development was a major focal point for voters.
A software glitch caused controversy and the votes had to be hand counted.
Harry and Ellen Rawlings say the news of the hotel, shops and more being taken off the proposal show people why every vote counted.
"He didn't have the support anymore with the changing of the board and the people spoke ," Harry said.
"And we won," Ellen exclaimed.
Bellissimo doesn't feel it was a winning or losing scenario, just a scenario about how to best position Wellington to be successful as a horse community.
Source: WPTV

News