California asks horse owners to vaccinate for West Nile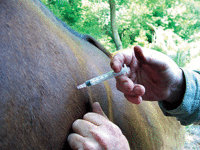 US Horses / California Horses
The state is urging horse owners to get their steeds vaccinated against West Nile virus.
Last year, 15 horses in California were positively confirmed to have the virus, which is spread by mosquitoes. Four of the horses had to be euthanized.
Signs of West Nile infection in a horse include stumbling, staggering, wobbling, weakness, muscle twitching and inability to stay on its feet, according to a California Department of Food and Agriculture news release.
Not all horses who are exposed to the virus will die, but those who do contract the disease have a nearly 40 percent mortality rate.
Source: The Sacramento Bee
News