Budweiser Clydesdale Horses Pulled From Holiday Adverts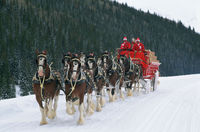 The traditional Clydesdales will not appear in the beer brand's holiday advertising after move to attract youth
The holidays just won't be the same after the country's No.3 beer brand Budweiser announced that the traditional Clydesdale horses that usually feature in their holiday advertisements have been put out to pasture this year.
Budweiser has been seeing a decrease in market share of the beer industry over the last decade as a result of the growing popularity of light and craft beers, reports Eric Shepard, executive editor of the industry tracker. Budweiser's Thanksgiving adverts have been focusing on promoting its vintage 18-pack Holiday Crates.
The company claims that the crates are replicas of the ones that were used to deliver the beer to retailers after Prohibition, and their adverts feature younger people devoting their beverages to their loved ones. The move is reported to be an attempt to target the growing market of younger drinkers.
The company has said however that the horses, which have been associated with the beer since 1933, will be featured in spots promoting responsible drinking over the season and will be back for the super bowl ads!
What do you think of Budweisers decision? Do you prefer the current adverts or wish to see the Clydesdales again?
If you really want to see some, you can view the Clydesdale horses for sale on our website!
News