Attention for the wrong reasons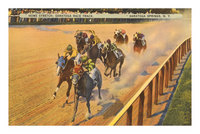 Opinion Article
With each passing day, New York racing gains more and more attention -- for all the wrong reasons.
Earlier this week New York Governor Andrew Cuomo joined the outcry over the rash of breakdowns at Aqueduct this winter, demanding the New York Racing Association (NYRA) bring in an outside group to investigate the spate of fatalities, which numbers 17 from the Nov. 30 opening of the inner track through Friday.
NYRA, in response, said it would lower purses for lower level claiming races, reducing the imbalance between claiming tags and purses, a flaw in an otherwise successful move to enhance purses through casino revenue. With horses running for $7,500 or $15,000 claiming tags able to earn more than that by a winning race, it has ignited a claiming frenzy that can also serve as reasoning to race horses in questionable physical condition.
Racing will also switch to Aqueduct's main track Wednesday, two weeks earlier than scheduled, shifting the action to a surface long considered one of the best in the industry.
Numerous other avenues for change exist, and while there's no single answer or remedy for the problem, any kind of meaningful change figures to involve the physical condition of horses that step onto the racetrack.
A horse in peak physical condition can take a bad step and suffer a fatal breakdown. Yet the preponderance of injuries and fatalities at the lowest claiming levels, where older and more physically taxed horses reside, are a telling sign that the envelope is being pushed too far.
In the last post here, a call for more vigilance in monitoring the physical condition of horse was voiced, and as more time passes it's becoming more apparent it's the horses, rather than the racetrack, where the root of the problem exist.
To remedy it, NYRA would be wise to increase its veterinarian staff and become more of a watchdog for horses with a bowling ball for an ankle who keep popping up in the entries. Putting more horses on the vet's list, and publicizing it, can't hurt the situation.
While much of racing's recent focus has been on illegal performance-enhancing medications, it might also be time for entities like NYRA to have the power to examine horse's medical records and find out if $250 or $1,500 a month worth of permissible medications are being pumped into a horse -- and ask why.
Knowing exactly what's going into horses can help NYRA to intervene and perhaps curtail the racing of an equine time bomb whose weak bones or joints might give at any time. It's difficult to believe any self-respecting trainer could knowingly race a horse that will break down in its next start, but the current financial conditions clearly create a situation where there's an inducement to race a troubled horse in hopes of netting a big purse and passing on a problem to someone else via the claim box.
Another option might be to create a time frame when a horse's legs can be viewed without wraps so both prospective buyers and track veterinarians can see exactly what those bandages are hiding. If a move like that reduces the chances of a shaky horse being claimed, it might keep that same horse in the barn and away from the racetrack.
Surely, as NYRA delves deeper into this, there are going to be unsettling findings, and some of the possible answers -- like less races a day to reduce the need for so many bottom level races, and a month or two winter break -- might rankle revenue-starved politicians like Cuomo who are speaking one way now and might change his tone later when it could affect the amount of money pari-mutuel wagering turns over to the state.
Some answers might not be popular, but quite clearly NYRA cannot endure another winter like this one.
Somehow NYRA needs to get across the message to horsemen that the winter of 2011-12 cannot be repeated, and that if more prudence is not exhibited it will be mandated. Inevitably, there will be mistakes and sound horses may be affected through extreme vigilance, but right now someone has to err on the side of the caution, be it horsemen or NYRA.
A word from a wise

At the start of February, a few weeks before the fatalities became headline news, while speaking with Hall of Fame trainer Allen Jerkens about the purse enhancements, he voiced concern over the imbalance between purses and claiming price.
"There's not much good that can come out of that situation," Jerkens said.
Apparently Jerkens is still as sharp as a tack at age 82, and there might be a lesson to be learned in that.
While a leader like NYRA president and CEO Charles Hayward has to deal with groups like the New York Thoroughbred Horsemen's Association, perhaps he should also periodically talk in private with respected longtime horsemen like Jerkens, who are known for candidly speaking their mind, to hear and digest their take on the state of racing.
Hopefully he already does something along that line, but if not he should pump up the volume of chatter from those with the best, and most unbiased and honest perspectives.
Solutions are often out there. You just have to look in the right places.

Source: ESPN
By Bob Ehalt
News