Ann Romney's horse Rafalco fails to win medal at London 2012 Olympics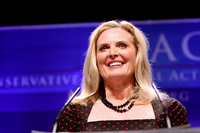 Team USA will be quite disappointed as Ann Romney's horse will not be winning a medal at the London 2012 Olympics. The 15-year-old mare, that is part owned by the Republican presidential candidate's wife, did not perform to the standard required on Tuesday in the dressage.
The horse, Rafalco, received a decent score on her trot earning 7.3 out of 10, however the horse had problems with transitions and her extended walk. In the end, Rafalco, being ridden by Jan Ebeling, finished in 28th place with an average score of 69.302.
Team USA were never expected to claim the gold medal in this event, so there is no serious disappointment and the Team GB horse, Valegro and its rider Charlotte Dujardin, were far too strong.
Romney was not too upset with the result and she spoke to USA Today saying: "It was wonderful. She was elegant and consistent again. We just love her."
News