Animals in The Hobbit suffer for the film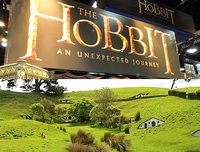 The Hobbit is part of the Lord of the Rings films, set before any of the films that have been released so far.
The filming is taking place in New Zealand, where the animals they need for it are kept at a farm close by. 150 animals that is. None of the animals were killed during the filming process however, horses, goats, chickens and a sheep have died whilst the film is being made - some of which have been deaths from natural causes.
The spokesman, Matt Dravitzki, did say that the death of 2 of the horses could have been avoidable therefore they have taken extra precautions to make sure nothing of this sort continues. The American Humane Association have been overlooking the animal welfare.
People from PETA plan to strike in the US, New Zealand and the UK to get the message across clearing to Hollywood to take more care when using animals in movies. The bad conditions of the farm were said to be down to bluffs, sinkholes and broken-down fencing.
One of the animal handlers said that he buried three horses, six goats, six sheep and a dozen chickens. Other animal handlers say 2 other horses also suffered from injuries.
One horse was euthanised after breaking his bank, another died from falling over a bluff and his head was found submerged in a stream and the last from supposed natural causes however other handles think it was due to the change of feed affecting his digestive system. One of the injured horses cut his leg from getting caught in a fence. Many animal handles quit after no changes were made to the farm.
The horses were moved to stables and a horse trainer was hired for 50 horses however he was also concerned with the current situation of the farm.
Read more at the guardian
News