A Brief History of the AQHA Congress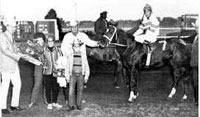 In 1966, Blair Folck, the owner of National Equine Sales was in an Ohio Quarter Horse Association board meeting when he reported on the Charolais Cattle Congress - which he'd recently attended in St. Louis. He raved about the success of the show and encouraged fellow board members that a horse event of the same magnitude would be equally successful.
As a former president of the OQHA, Folck's suggestion was met with mixed emotions initially. Many were excited by the idea, but some were concerned about the financial liability of an event of that magnitude. The OQHA only had $3,500 in the bank at the time, and much of that money was already dedicated to other group needs.
Folck pressed further and an exploratory committee was established to review the project's feasibility. The board spent nearly six months weighing the outcomes of hosting the Congress, before finally agreeing - with conditions - to host. If the OQHA was to host a Congress, $10,000 had to be raised before May 1, 1967.
Folck and other board members worked tirelessly to raise awareness and promote the event in order to raise enough money on time. After a short time, the $10,000 was surpassed and the board decided to proceed with the All American Quarter Horse Congress in November of 1967 at the Ohio State Fairgrounds in Columbus.
Registration was $20 for three days, $15 for just Saturday and Sunday, and $5 for Sunday only.
More than 5,000 men and women came to the first Congress, and the event was a huge hit, making around $15,000 over the three-day run.
Nearly 45 years old now, the Congress is still a massive hit in the United States, and has grown the OQHA immensely. Today, Congress is known as the world's largest single-breed horse show, boasting more than 17,000 entries each year, and housing almost 6,000 registered American Quarter Horses during it's three-week timespan.
News