9 horses killed in barn fire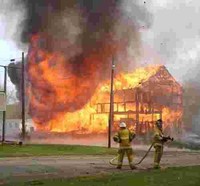 Nine horses have died in a fire at a barn in north central Florida.
The Ocala Star-Banner ( http://bit.ly/HzcLXb) reports the fire occurred Sunday at the McKathan Farm and Training Center in Reddick, located about 15 miles north of Gainesville.
When firefighters reached the barn about 75 percent of the structure was already engulfed in flames. Nine horses died in the blaze, but a neighbor and farmworkers were able to lead five to safety.
One farmworker sustained first and second-degree burns but declined to be taken to the hospital.
Jessica Greene, a spokeswoman for the Marion County Fire Rescue, told the newspaper the cause of the fire is under investigation.
Source: The Miami Herald
News