32 Horses Killed In Devastating Stable Fire, 5 Escape
News
•
Monday 24 November 2014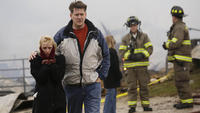 Extra-alarm fire in McHenry Country, Illinois leaves stable in ruins
A devastating stable fire has resulted in the death of 32 horses at Valley View Acres horse stable near Woodstock, in unincorporated McHenry Country, Illinois. The fire is reported to have started at 10:53 p.m Saturday night, and burned until 12:30 am, when it was declared under control by firefighters.
The stable was owned by the Bauman family, who owned some of the horses lost in the fire, while other horses were being boarded at the stable. Horses at the stable were a mixture of award-winning hunting and jumping horses along with horses used for riding lessons.
The fire has stunned the family. Amber Bauman, 40, said "This is the first time in 35 years I don't own a horse. I don't know what to do anymore."
"It's every barn owner's worst thing you can ever hear"

(Stacey Wescott, Chicago Tribune)
The stable and the horses were insured, but that is little solace when something so important to you is taken away. "That's home. That's an extension of home. This is all my kids know, and it's gone," she said.
Amber is most devastated over the loss of "best friend" Eve, a horse she bought on New Years Eve as a foal when she was 10 years old, spending all her savings of $82.73.
The preliminary damage is estimated to be over $1 million. 5 horses escaped the flames and were found in a pasture later on.
Our thoughts are with the Bauman family and the horses lost in this tragic incident.
News