Soaking Hay - The Benefits For Your Horse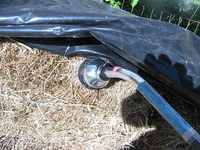 Traditionally, soaking hay is used to treat illness in horses, including respiratory issues. The benefit of hay soaking isn't just for sick horses. Soaking hay before feeding time can control dust and pollen, limit non-structural carbohydrates and remove proteins and minerals that can be harmful to your horses.
Recent research shows that soaking hay can help manage many equine health issues including:
Equine metabolic syndrome

Insulin resistance

Recurrent airway obstruction

Pituitary pars intermedia dysfunction

Laminitis

Polysaccharide storage myopathy

Hyperkalemic periodic paralysis

Obesity
Even if you're just considering a temporary hay soaking, you can improve your horse's health. Research says that the longer the hay is soaked, the greater reduction of water-soluble carbohydrates.
It's crucial if you are planning on soaking your hay to control the climate in your barn. Soaking hay overnight when temperatures drop below freezing can leave you with a giant hay ice cube in the morning. Conversely, in the summer heat, leaving your hay in water too long can result in a bacterial stew. You can soak hay in scalding hot water for one hour to kill any harmful bacterias, but you'll need to soak that hay in cold water before serving it.
If you're soaking your hay for a horse with respiratory issues, you'll want to soak the hay longer than if you're soaking it for a healthy horse.
Whether your horse is feeling ill or 100%, soaking hay before serving it can be beneficial. Consider your horses, climate and time to determine if soaking hay is the best move for your barn.
Articles