A Treat for Thanksgiving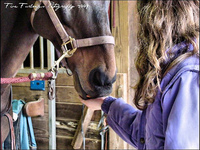 One of the first things people think of when thanksgiving is mentioned is food... lots of food. So how about sharing this with your horse? - a special treat for him, as well as you. Instead of a carrot or an apple, here is a recipe to change up the treat.
Sweet Cookies
Ingredients
4 cups sweet feed

1/4 cup brown sugar

3 cups molasses

2 carrots, grated

2 apples, finely chopped

1/2 cup flour

Icing sugar
Instructions
Firstly, preheat the oven to 400

°F.

Mix the sweet feed, sugar, molasses, carrots, apples and flour all together until binded.

Form into balls and pressed onto a tray lined with grease proof paper.

Put in the oven for 20 minutes, give or take a few minutes.

Leave them to cool on a cooling rack.

Sprinkle with icing sugar.
Photo by 'Five Furlongs'
Articles