What Should a Two-Year-Old Know?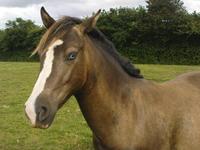 Two-Year-Old Horses

When your horse turns two, you can finally consider beginning his training to be a riding horse. Assuming that he already knows the basics of being led and tied, he is now mature enough to handle light work, and real training.

It is possible to begin training your two-year-old to longe. While it may seem simple, longing can be quite hard on a young horse's joints, so be careful not to use too small a circle, or to longe for an extended amount of time. Instead, use short sessions, starting at a walk, and slowly progressing to trot work. Most two-year-olds are not yet balanced enough to manage a canter on a longe line, so it is better to avoid canter work for now.

As you teach your youngster voice commands, consider teaching him to free longe. As a yearling, it was more of a game, but by two, you should be able to start asking for specific transitions while free. If you are using a decent sized arena, you can also begin asking for some canter work. Avoid cantering in small round pens if possible as it is too hard on a baby's joints.

Another good idea is to introduce your two-year-old to tack. He can learn to wear a saddle and bridle without too much difficulty. Take your time introducing new equipment, and make sure to put it on securely so that it does not slip or irritate him. Free longing and longing in tack is a great way to get him used to working with a saddle and bridle.

Two year olds are full of energy and need to keep their minds busy. Another great way to prepare your horse for being ridden is to teach him how to long line. Long lining is when you use two long lines, or reins, so that you can drive your horse from behind or from the middle of a circle, so that he learns basic rein aids. This will set you well ahead of the game when it comes to backing him when he is three.

Continue taking your youngster for walks around the property and taking him out to shows for visits. These are great ways to accustom him to going new places and to learn to trust you no matter where he is.

It is best to leave backing your horse until he is three years old. Many horses are started under saddle at two, and do fine, but it is easy to go too far too fast when you start that young. If you can't resist getting on his back, stick to riding at a walk, and keep the sessions short.

Two-year-olds are still very young, and need a lot of turnout and free time. Don't over work him, or he could become sour. He will have plenty of years of hard work ahead of him. Let him enjoy his youth as much as possible.

Articles