Showing on the Line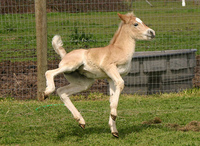 When you have babies around the farm it is sometimes hard to leave them alone and wait until they are old enough to start under saddle training. Fortunately there are other things that you can do with your young horses to keep you busy and to prepare them for their future.

Many horse shows offer line classes for young horses. In these classes the horses are led around the ring and are judged on their movement and conformation. Additional classes may be offered where the handler is judged for their ability to show off the horse on the line.

If you have a registered horse you may find that there are shows specific to their breed that provide line classes for young horses. Some of these classes even offer good prize money and futurities. Contact your breed organization to find out what shows they may have available for your youngster.

The first step in preparing your baby to show on the line is to teach them to lead properly. They should walk beside you with his shoulder at your shoulder. The walk should be forward so that your horse's natural movement is showcased. Depending on your breed and discipline you may need to train your horse to walk in a bridle or in a halter. Either way he should walk calmly with some contact, but not a tight lead, which could interfere with his movement.

When your youngster is confident at a walk, it is time to teach him to trot in hand. Start up a short jogging stride beside your horse, not necessarily going fast, just getting your movement into a jogging pace. Most horses will quickly pick up a trot in response to your movement. If you horse does not pick up on this subtle signal you may need to carry a dressage whip to tap him on his quarters to encourage him to move on. Similarly you could recruit a helper to use the whip behind him to chase him forward until he gets the idea.

Another important thing your baby should learn is how to stand. Staying still for any length of time is challenging to any youngster, so start with short sessions and gradually lengthen them. Fortunately the judge only looks at one horse at a time, so when he is not looking at your horse you can allow him to relax if he is not happy standing still.

These basic lessons are excellent introductions to the skills your horse will need once he is going under saddle. By attending shows with your baby he will learn to relax at different locations and to accept trips on the trailer. The time spent braiding and bathing him will prepare him for the many baths and grooming session he will enjoy later in life.

There is really no need to rush a baby into under saddle training. They need to wait until they have sufficiently matured to be able to safely carry a rider, which isn't until they are at least three years old. In the meantime try training your baby to show on the line. It is a fun and rewarding experience that any horse owner can enjoy with their youngster.

Articles