Horse Trainer Advises Patience, Connection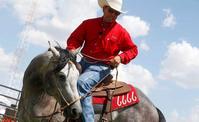 Platinum learned to obey orders and do as he's told — eventually, at least.
The 4-year-old quarterhouse stud starred in the horse demonstrations Friday, Sept. 6, at the National Cowboy Symposium and Celebration.
Trainer Chance O'Neal explained — as with teaching young humans — patience and persistence are key.
And like training anyone, he said, expectations should be high but not overwhelming.
"It's all important to set your scenario up to where the horse can succeed and it doesn't scare the horse," he said. "If we do too much they get aggravated. We want to give them a break."
O'Neal, who represents the Four Sixes Ranch in Guthrie, recommends trainers watch their equestrian students to pick up a feel for their movement patterns.
"You've got to know your horse," O'Neal said. "You've got to know his balance and how he's built."
Expalining the concept of lateral flexion — the horse's movement away from its midsection — O'Neal suggested controlling the animal's hind feet to encourage its overall movement in a particular direction.
"I want to get to where I can move his hindquarters before anything else, because that's the driving end," he said.
With Platinum comfortably trotting through his demonstration area just north of the Lubbock Memorial Civic Center, O'Neal prepared him to lope. Because horses' natural instinct for defense is to run the opposite direction from where they're being called, he said attracting them takes extra effort.
For that reason, he suggested to first master other areas of training.
"Until we can establish step 1, we don't go to step 2 — that's very important," O'Neal said.
In other demonstrations, O'Neal addressed groups of young symposium visitors on school trips. He described horses' uses in cattle ranching, such as the ranch where he works 90 miles east of Lubbock.
"They use them to get cows," said Savanah Olivarez, 9.
Kollier Miller, 9, added, "They're smart. They're fast."
This article is originally from The Lubbock Avalanche-Journal. To see the original story, click here.
Articles