West Nile Virus - Protect Your Horses Today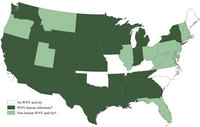 West Nile Virus (WNV) is a disease spread through the bite of infected mosquitos. Both humans and horses are susceptible to WNV. If your horse becomes infected with the disease, there is no treatment available which is why it is so important that you know and understand your options when confronted with an outbreak of the virus.
How Can I Protect My Horse?
There is a vaccine available for horses that will protect them against West Nile Virus. The vaccine requires yearly booster shots to keep it updated, but once administered, it will protect your horse against infected mosquitoes that carry WNV.
How Can I Keep My Horse From Being Bitten By Mosquitos?
1. Keep your horse in the stable from sundown to sunrise - the time when mosquitoes are most active. Once in the stable, use a fan to ensure that the air is continually circulated. Mosquitoes thrive in environments with still air and standing water.
2. Use horse mosquito repellant when your horses are outside.
3. Reduce or eliminate any standing water on your property to ensure mosquitos cannot breed. Mosquitoes can breed in as little as a half inch of standing water, which is why even your birdbath should be regularly emptied and refilled. Stock natural standing water on your property with "mosquito fish" that eat mosquitoes and reduce the likelihood of a WNV outbreak. If you can, drain any standing water around your home and stable.
It is possible to protect yourself and your horse from West Nile Virus. Get your horses vaccinated, and maintain your property to reduce the number of available breeding grounds for mosquitoes.
If you would like more information about West Nile Virus, visit The Center For Disease Control here.
Want to learn more about horse health care? Read our ultimate guide below!

Ads
Articles