Edit in sitelab
Ushering in an Active Retirement for Your Mature Horse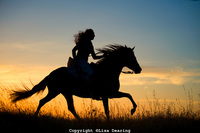 Do you have a mature horse? Have you been considering putting him or her into retirement? Before you decide to send him to pasture, consider this: Dr. Karyn Malinowski, an equine extension specialist at Rutgers University, says that many horses can benefit from regular exercise as they age. Adjusting their diet and lifestyle can add years onto your older horse's life, and considerably change their energy levels.
Follow these steps to help your horses feel younger, longer:
1. Equine Checkup
The first step is to have your horse evaluated by a veterinarian. Determine any rational limitations presented by your horse's age and discuss them at length with the vet. Set realistic goals and modify current exercises to allow aging joints and muscles to ease back naturally into activity.
Chances are, your horse is still physically sound-enough for regular exercise. The initial veterinary appointment is hugely important for ensuring that your horse is comfortable and healthy enough to be rehabilitated and that he or she doesn't have any pre existing conditions that might be aggravated with increased exercise.
2. A Feed Change
According to doctors at Texas A&M University, the large-intestinal function is altered as a horse ages. This creates an increased need for higher-quality protein, alternative forms of roughage and supplemental vitamin B. If your horse struggles to keep weight on, senior feeds are great for helping the body utilize available nutrients. On the other hand, if your aging horse has gained a few unwanted pounds, senior feed might be compounding the problem.
Putting on excess weight is difficult for your older horse to manage. It causes more stress on aging legs and joints, and puts added pressure on a stressed cardiovascular system. Dietary changes are in order for an aging horse who's too heavy. Increased exercise is hugely important, but a feed change is necessary too. Speak with your veterinarian to discuss available feed options to help your horse be his best self.
3. Conditioning
Conditioning is the key to achieving and maintaining muscle tone in older horses. Develop a checklist before you start your conditioning program to track progress. Increased warm-up times, a decreased intensity level and a shorter exercise period are better for older horses.
Begin each workout with light stretching exercises to help reduce the risk of injury. Workouts should be consistent and should very gradually increase in intensity. No one knows your horse better than you do, so determine for yourself what a good starting point is, and use cues from your horse to increase or decrease intensity from there.
In her book The Older Horse, Eleanor Kellon, DVM, says, "Keep in mind that the goal of interval training is to get the maximum benefit with the minimum stress on the horse." Don't push your horse too hard, too fast. You're better off moving at a very slow pace for a long period of time and gradually building up to more intense exercise than injuring your horse by moving too quickly.
4. Massage
A simple massage once per week, when added to a regular conditioning program, can help your older horse to grow strong, healthy muscles. Massaging before and after workouts can help to improve circulation and brings nutrients into sore muscles.
There are three massage techniques to try with your horse: effleurage, compression and direct pressure. To perform effleurage, place a flat hand on your horse's skin and feel for tension or abnormalities in the leg muscles. Follow this technique with compression. To compress, target problem areas and press into the muscle and rotate your hand in half-circle motions toward your horse's tail. Finally, apply direct pressure to very tense areas using your thumb. Push into the knot and hold pressure for 30 seconds. Release and repeat.
As with conditioning, you need to be aware of your horses reaction during massage periods. If one technique seems more painful, scrap it for a different technique or move more slowly.
Rehabilitating your horse is a long-term process. It requires patience, commitment and dedication. But as you continue to work with your horse, you'll discover how much life he or she has left in her. When you're finished, you'll be left with a partner who is ready to ride into retirement with you.
Want to learn more about horse health care? Read our ultimate guide below!

Ads
Articles