Lyme disease: Symptoms, Treatment & Prevention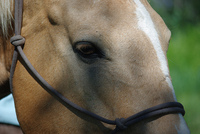 Are you worried about Lyme Disease?
The Stark County Health Department has issued a warning of Lyme disease carried by ticks.
For more information, go to http://qconline.com/archives/qco/display.php?id=607335
Lyme disease can be found in humans as well as horses. The disease is spread by the black legged tick and found most commonly in the North East and Upper Midwest of the US.
Symptoms
Decrease in performance – this may be in everyday performance, or may be visible in competitions.

Irritability – the horse may be unwilling to cooperate with everyday normal routine, such as grooming, or may show bad behaviour which is uncharacteristic to the horse.

Lameness

Joint Soreness and Stiffness

Fever – a fever may occur in the horse, this may be more in the earlier days of the infection.

Eye Inflammation – also known as 'moonblindness'
Treatments
Treatments are difficult for Lyme disease because it is very hard to identify. The symptoms are not unique to this one disease so are often diagnosed as over illnesses. One disease that shows similar symptoms is Parkinson's. It doesn't even always show up in blood tests
However, when the diagnosis of Lyme disease has been confirmed, antibiotics would be prescribed by your vet. This course of antibiotics may run for around 30 days however it is dependent on the stage of the disease.
Even once the disease is cured; it can leave long lasting affects on the horse.
Prevention
No vaccination currently exists for Lyme disease in horses; however here are some tips to help:
Check your horse daily for ticks from head to toe – if you find a tick, check how to remove it properly or you may only remove part of it.

Keep the grass short – ticks like to hide in grass to reduce sun exposure; they can't do this in short grass.

Invest in a good fly repellent – this is especially important in the tick season.
Lyme disease is not very well known about at the moment, therefore information is limited. Each vet you talk to may give you different details and opinions. More research is needed.
Photo by DQmountaingirl
Articles