Killer Bees - Protect Your Horses from a Swarm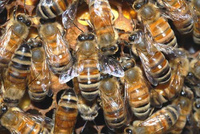 One horse died, and a second was injured after a swarm of African Killer Bees attacked at a ranch in Arizona this weekend.
The first horse was stung repeatedly and died on the scene. The second was treated by a local veterinarian and is expected to recover. When the owner of the horses observed the attack, she ran towards her horses and was stung 20 times on the face and neck.
Unfortunately, events like this are all-too-common in the Southwestern United States. There are precautions you can take to guard against swarms of bees, and there are things you can do during an attack to protect yourself.
Preventing an Attack
Insect-proofing your stables can protect your horses from bees. Using fine-mesh mosquito screens to keep insects out, and ceiling fans to keep air moving through your stables should help to eliminate nests.
Also consider using insect repellent when your horses are out of the stable. Horse insect repellent can work very well against African Killer Bees, but it needs to be reapplied regularly.
Caring for and Identifying Bee Stings and Symptoms
Whether you bee-proof your stables or not, horses are likely targets for bees, flies and mosquitos which tend to nest in pastures and stalls. If you observe inflammation on your horse from an insect bite or sting, you can apply topical cream to ease the discomfort.
If you notice a large number of red, swollen bumps on your horse, it is likely he was stung by a swarm of bees or hornets. Pay close attention to your horse's behavior to determine whether or not he will have an allergic reaction. If your horse experiences flu-like symptoms, swelling of the face and lips, increased body temperature, shivering, lethargy or loss of appetite, you should seek veterinary attention immediately.
If the allergic reaction is not severe, or if you don't observe any major symptoms, treat your horse with a topical skin protectant and apply ice to the swollen area. Restrict your horse's access to the wound by covering it with a bandage or using a muzzle.
During the healing process, maintain your horse's overall health by obeying a consistent high-quality diet and observe his behavior after the attack for several days to determine whether or not an allergic reaction will develop.
If your horse is being attacked by a swarm of bees, protect yourself first. Ensure that your face and neck is protected and do not approach the swarm. Call 911 immediately and try to get your other horses to safety.

Keeping a clean stable can help to protect your horses from insect bites and stings - and it can save lives.
Want to learn more about horse health care? Read our ultimate guide below!

Articles