Learn tips and advice on How to ride a horse, how to care for your horse plus read horse training tips and get general information and advice from horse experts and top riders!
---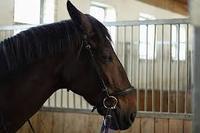 Did you know? Horses, Zebras and Donkeys (or Equids) are the only animals that sleep standing up. According to scientists at the Department of Natural Sciences at the Florida Museum of Natural History, they developed this ability as a way to remain alert for predators. After all, the horses that could simply wake up and run if it sensed a predator would be better served than the...
---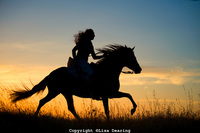 Do you have a mature horse? Have you been considering putting him or her into retirement? Before you decide to send him to pasture, consider this: Dr. Karyn Malinowski, an equine extension specialist at Rutgers University, says that many horses can benefit from regular exercise as they age. Adjusting their diet and lifestyle can add years onto your older horse's life, and considerably cha...
---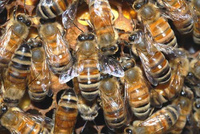 One horse died, and a second was injured after a swarm of African Killer Bees attacked at a ranch in Arizona this weekend. The first horse was stung repeatedly and died on the scene. The second was treated by a local veterinarian and is expected to recover. When the owner of the horses observed the attack, she ran towards her horses and was stung 20 times on the face and neck. ...
---

As summer turns to fall, don't let your guard down on this deadly hoof condition. The reason laminitis in horses increases in the fall is fructan, a plant sugar that contributes to metabolic imbalances that can lead to laminitis. Produced during photosynthesis, fructan is a fuel source that helps the grass grow. Levels of the sugar taper off when the plant reaches matur...
---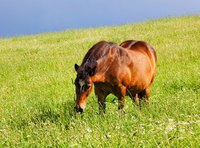 A recent collaborative project between equine researchers from the University of Minnesota and the University of Kentucky has resulted in an app that helps horse owners better determine their horse's body weight. Knowing the weight of a horse relative to the ideal weight of his breed can help owners better determine their horse's nutritional needs and medication dosage. Born f...
---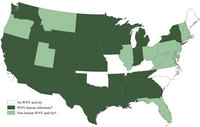 West Nile Virus (WNV) is a disease spread through the bite of infected mosquitos. Both humans and horses are susceptible to WNV. If your horse becomes infected with the disease, there is no treatment available which is why it is so important that you know and understand your options when confronted with an outbreak of the virus. How Can I Protect My Horse? There is a vaccine...
---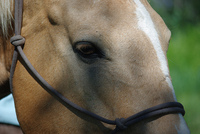 The Stark County Health Department has issued a warning of Lyme disease carried by ticks. For more information, go to http://qconline.com/archives/qco/display.php?id=607335 Lyme disease can be found in humans as well as horses. The disease is spread by the black legged tick and found most commonly in the North East and Upper Midwest of the US. Symptoms Decrease in perfo...
---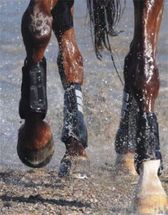 When a performance horse is injured, his show schedule or exercise regimen shouldn't be the only facets of his life that change. As one equine nutritionist explained at a recent symposium, an injured horse's diet can either help or hinder the healing process, and might need to be adjusted from his performance diet. During a presentation at the 2012 Alltech Symposium, Tania Cubitt, P...
---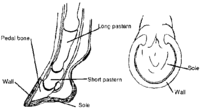 You've heard it time and again. "Don't forget to pick out your horse's feet." But why is this so terribly important? It is easy to assume that if you picked your horse's feet out before you rode that they would be fine when you are done. Or to feel that since you horse has been inside all night that there couldn't possibly be anyt...
---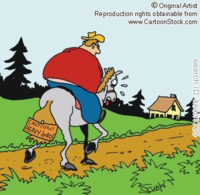 With a growing number of people suffering from obesity, it is not surprising that many riders are questioning their horse's comfort at carrying their weight. The pressure to slim down is bad enough without worrying about your horse, but when you have an animal's wellbeing to consider it can be difficult to know what to do. So how do you know if you are too heavy for your...
---