Why Keep a Stallion?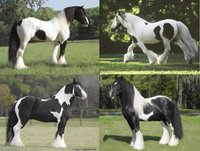 Stallions
It's something many young boys and girls dream of – owning a beautiful stallion and riding him off into the sunset, or into competition, or even into battle. Stallions are the subject of many fictional tales, the proud, fiery mounts of great heroes, the champions of the racecourse, the unchallenged competitor in the show ring. It's no wonder that so many people grow up wishing that they too could own a stallion.

Yet, in reality, stallions are not quite as romantic as they are in the story books. Managing a stallion is not for everyone, and far too many stallions are spoiled by owners who have no idea how to properly care for them. Hundreds of stallions are cooped up in their stalls like caged animals, too dangerous to be allowed the freedom of a paddock. Many are turned loose for breeding, never handled beyond the essentials. Others are handled unsafely, eventually becoming a hazard to everyone around them.

Don't get me wrong. I love stallions. They can be fantastic horses if well managed. But, most horse people do not have the experience or the knowledge to do so.

There are very few reasons to keep a colt a stallion. And, even if a colt falls into one of these categories, he will need careful handling to keep him happy and healthy.

Here are some of the reasons a colt might be worth leaving uncut, at least for a while.

1. He is from a rare or endangered breed, and his bloodlines need to be preserved. This only counts if he is also an exceptional specimen of the breed – a poor quality colt is worthless even if he is the last of his bloodline.
2. He is an exceptional example of his breed, or he shows a trait that is highly desirable for the breed. There should be no glaring fault in addition to this exceptionality. Also, there should be no genetic anomaly – HYPP was created by breeding for a specific characteristic that turned out to be linked to a genetic mutation.
3. He has shown exceptional ability (or potential ability) for a specific discipline/sport.
4. He has a job as a teaser, and is carefully and properly managed. Farms do need teaser stallions. In an ideal world those teasers would also be breeding quality stallions, but this is not always the case. While you can use hormones on a gelding to tease mares, this is not always practical.

A colt should not be left uncut because

1. It costs too much money to geld.
2. He's cute and easy going, and you can't imagine him being difficult to handle.
3. He will resent being gelded.
4. It's cool to own a stallion.
5. You might want to breed your mare(s) to him some day.
6. You want to make money standing a stallion at stud.

Articles