Why do you Need a Big Horse?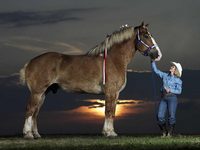 Huge Horse
Horses come in all shapes and sizes, as do people. But why is it that so many riders seem to want big horses? It seems that anything under 16hh, but over pony sized has little to no market at all.

Many riders are not all that big in stature. Since most riders are women, averaging 5'6" in height, it seems strange that most people searching for horses are looking for animals 16.2hh or bigger. So what makes a rider want a big horse?

Some believe that a horse needs to have size to be able to make the distances in the show ring. A hunter needs to have a 12' stride, so a 16hh+ horse is more likely to be able to manage that distance without effort. But, many big horses in fact have longer strides than 12'. They need to be collected in order to make the distances. Others have no stride at all, despite their size. Small horses sometimes do need to struggle to get the distances, but many small horses with good movement can easily manage a 12' stride. The problem is that they look as though they are going much faster than a big horse, making their rounds look rushed.

Others feel that a big horse is more capable of jumping the heights required. While a big horse would not need to put in as much effort to jump a large jump, this does not stop small horses from being excellent jumpers. In fact, a former Olympic horse, Jappaloup, was very small, and yet she out jumped many top horses. In Europe, ponies are expected to jump over 4'+ fences without any fear that they can't make it. So, why expect that a 15hh horse is not capable of jumping more than 3'?

Dressage riders like big horses because they have large strides. Small horses can also be excellent movers, and many have stride lengths that would shame many larger horses. Just take the time to watch the movement of a top quality Welsh Pony and you will see just what movement can be like for a small horse. There is nothing about a small horse that makes dressage more difficult. In fact, because they are often more compact in build, small horses can be easier to collect.

Some riders feel that they would be too big or too heavy for a smaller horse. Yet, in ancient times, knights in heavy armor would ride horses that many of us would consider small. Large horses such as those we see now are a modern development. The oldest breeds of horses were used for under saddle work by men of all shapes and sizes, and most of those horses were well under 15hh.

It is best to choose a horse than matches your build and size. You are far less likely to be overhorsed if your animal fits you. A small horse can be just as successful as a larger one. You just need to give him the chance.

Articles