Top 5 Presents for Horses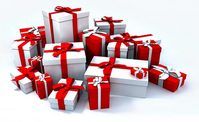 We have picked the best 5 presents that we think your horse will enjoy. They vary in price and size to cater for everyone's needs, however each is a special as the next. All these gifts mentioned are to maximise the comfort and happiness of your horse.
1. Toys and treats
The first one is an obvious and inexpensive one. When your horse has been locked in its stable for long periods of time, it can get bored and this can possibly lead to problems with their behaviour later on. Great toys for distraction and entertainment are balls that they can pick up or an item such as the Tongue Twister™. These can provide hours of entertainment for your horse.
Treats are fine for your horse in moderation and will definitely make him happy. You can either make them yourselves or buy them. There are many recipes available.
2. A Friend
Buy your horse a fury friend. Another horse is an expensive present however, if you are able to afford it, it's a great investment. Horses are herd animals and it's good for them to be around one another if you cannot be there due to other commitments. However this does not neccessarily mean you will have to buy another horse, you could put your horse in stables where it will be surrounded by other horses and people, or take on a boarder where it will be advantagous for you both.
3. Horse Rug
A new nice and cosy rug is a great present, especially around the cold months during the holiday and present giving season. When the temperature continues to dip, your friend will be very grateful for this extra warmth. For more information read here: Guide to Horse Rugs.
4. Mats for the stall
Stall mats are a nice way of adding something to the stall. They provide extra padding and comfort for your horse especially if they are in the stall for long periods of time, for example, during the night. Not only do they provide comfort, but they can also provide a health benefit. Standing for long hours on hard ground can put pressure on the horse's bones and joints, and this softer ground will reduce this.
5. Pamper your horse
How about giving your horse something completely different; perhaps something you have never given them before; or that is a rarity. For example, try an equine massage, a specialised groomer for the mane & tail or a expert practitioner for your horse's hooves to improve their comfort. This is not something that happens everyday as it is possibly for you to do this yourself and inexpensive. So how about giving your horse a treat…
Articles