Join the Club: Are Horse Clubs Worth It?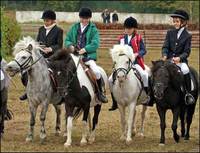 Horse Clubs
As young riders become more involved in the sport, it can be difficult to know how best to encourage them in their interest. Many parents enroll their kids in group lessons at the local riding school, but this may not seem enough for your horse crazy child.

Some riding schools have their own clubs made up of students from their program. Sometimes these clubs are members of larger organizations such as the Pony Club or 4H. Other times, the clubs are purely based in the school.

The big advantage of clubs based on larger organizations is that there is a far better support system available. There are tons of Pony Club and 4H shows across North America. Riders who do well in these recognized events often gain the opportunity to travel across the country, showing in State and National Championships. There may even be international events available to winners at the higher levels.

Of course, showing should only be a small part of the picture. Instead, the big advantages of horse clubs is the education they offer. Members are taught a wide range of horse care skills, developing their knowledge and progressing into the higher levels. Often graduates of the top levels of these clubs are well developed riders with the potential to move into professional aspects of the equine industry.

In addition to the huge educational benefits, kids get the chance to meet other horse crazy kids, and share their love for the animal. The friendships made in horse clubs can last a lifetime, whether the riders continue their love of horses, or move on to other interests later in life.

Finally, there is the benefit that any parent can appreciate. If your child is heavily involved in the horse world, there will be little time or money left over for getting into other less appreciated youth pastimes. What horse crazy kid would rather go out and party on a Friday night when they know they need to be up by 5:00am to get ready for a show? Why spend money on drugs when that money could be far better spent on that neat new halter, or a great set of half-chaps?

If your child is crazy about horses and wants to work on learning to improve, check out what clubs are available in your area. Many clubs do not require that their members have their own horses. This is particularly true of those that are sponsored by a riding school. Your child will gain great benefit from the club, and you will rest easy knowing that you will be keeping your kid out of trouble.

Articles