How to Make your Breed Association Count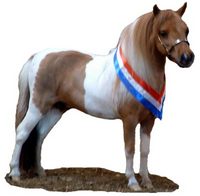 While most breeds of horses are supported by an association that takes care of the registration of the horses in its breed, not all associations are equal. In fact, some are well known for their excellent support of their membership, while others are nothing more than glorified registries.

There are many things that set apart breed associations, so that the membership benefits and the breed has the opportunity to grow. If you are a member of a breed association, check to see what your association offers to the membership. Remember, most associations are volunteer-run, and welcome those who are interested in helping to improve the association.

Here are some examples of how a breed association can support its membership.

Breed-Specific Shows

Many breed associations offer specialized shows for their breed. These shows offer classes on the line, futurity classes, under saddle classes, and many other classes that are specific to their breed. Often these shows have special awards that are passed on year after year to the winners of each division.

Performance Award Programs

When a breed excels in a specific range of disciplines, it is not uncommon for an association to offer an award program for horses that excel in that discipline. The award winners are usually published on the web site, in the association's newsletter, and the owners and/or breeders receive a physical award to display at their farm.

Online Marketing

Well-built websites for breed associations offer a unique opportunity for members to list their horses for sale. With farm listings, breeder listings, stallion listings, and classified listings, the association website can be the perfect resource for anyone looking to purchase a horse of that breed.

National and International Marketing

Many breed associations have specialized marketing programs designed to promote their breed across the nation, and around the world. While these marketing programs may not list specific farms or animals, they do promote the breed as a whole, leading more people to choose to try a horse of that breed.

Membership Magazines or Newsletters

These publications keep the membership up-to-date and are great ways to help members advertise their services within the breed. Some such publications have classifieds or advertising space available.

Stallion Auctions and Youngstock Sales

One way that associations make money to run their offices, and help their membership, is to offer special stallion service auctions or youngstock sales. With members gaining reduced rate breedings and breeders gaining a new venue to advertise, these auctions and sales can be a great way to promote the breed.

If you are a member of a breed association, get involved. Often the only reason a program is not in place is that there is no one available to run it. The more members become involved, the better support the association is able to offer.

Articles