How To Book The Perfect Riding Holiday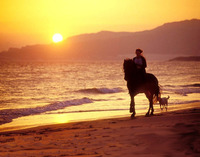 If you're thinking of heading west and booking a ranch stay in North America, riding holiday specialist Ranch Rider has drawn up a list of travel tips to make sure its the holiday of a lifetime. Do certain destinations suit different levels or rider better? Every destination and ranch offers something new so it's not really that simple, and riders tend to be grouped according to their ability.
If you want to step it up in the saddle, then some of the more rustic working ranches do tailor themselves more towards the serious rider with unlimited riding and all day rides, but that's not to say an upscale working ranch like the Hideout in Wyoming wouldn't fit the bill, as this a luxury working cattle ranch. In terms of challenging trails pack trips, mobile camping and cattle drives are often the way to go as they really test your mettle.
Best time of Year to Go? You can ranch year round. Arizona is one of our most popular winter sun destinations and there are seasonal cattle drives running throughout the season. Summer is the best time to go if you want to enjoy the rodeo, but May is also a special time of year. Throughout the month working ranches will be engaged in branding, sorting and doctoring. At this time of year cattle drives are also commonplace, the cowhands pushing the herd to grazing areas located at the furthest point from the ranch. While week long cattle drives are suited to those with more experience a ranch adventure gives greenhorns the chance to be a real cowboy. A fifth generation working ranch, Montana's Lonesome Spur offers a taster of the true cowboy lifestyle. During May guests play a hands on role in branding, the team working the cows and calves in the Pryor Mountains. With cattle included from neighbouring ranches, there is plenty of diverse terrain to cover, around 3,000 branded in batches of 50-300 over the month of May and in early June. Authentic to the last, alternative activities include learning to rope a steer with a legendary rodeo star.

The once champion bull rider is always willing to share stories from his professional days in the arena, and evening campfires and the chance to visit a cowboy bar in nearby Bridger are included in the stay. Do riders need to bring their own equipment? Saddles and tack will be available at the ranch to use, but when it comes to cowboy hats it varies. We would recommend you bring your own or if there is one on site purchase a Stetson from the ranch gift store. Hard hats are not necessarily worn and we would suggest bringing your own if you feel it's is important to you. What do customers need to consider before booking this type of holiday? ·
You yourself may be a keen rider, but if your partner still hasn't taken up the reins don't discount a luxury ranch or a guest ranch. The activities at these types of ranches will be more varied, with everything from mountain biking to golf included in the package. For instance, at Wyoming's Paradise Guest Ranch, angling enthusiasts can add on a four day fishing trip. For the ultimate challenge there are outward bound courses with zip wires, climbing walls and high ropes courses. These ranches are what we would call "adventure centres," and health and wellness features including, massage and yoga are often additional elements of the holiday. Idaho's Red Horse Mountain Ranch and Wyoming's Brush Creek Ranch and Spa are perfect examples, and at the latter you can hire a personal trainer.
Don't use price as your decision maker, base it on the experience that is being offered · Consider guest numbers at individual ranches as that will dictate the feel of the holiday. With a smaller number of guests there's a more casual, family atmosphere – and that's often a real plus for solo travellers. If you are going long haul ask about the journey times from the airport to the ranch, especially if you're bringing the kids. We offer many ranches within a short distance of the main airports covered.
While not necessary, many people like to try out at western riding before their holiday and while instruction is always given at any ranch, they often reap a lot of rewards from saddling up beforehand. At some ranches you will also have the option to book lessons. Also, ensure that you are booking with a fully ATOL and ABTA bonded agent as that way your holiday will be fully guaranteed. Is special insurance required for riding holidays? You need to be insured for riding without a hard hat, if you intend to ride that way. Many insurance policies only cover riding where it is not the main activity, so we would always advise that client check exactly what their insurance does cover.
If you are looking to take on alternative activities for example, ski or white water rafting (sometimes offered as part of the ranch stay experience), you should also ensure you are covered for that pursuit, and for the right number of days. Ranch Rider: 01509 618811; info@ranchrider.com; www.ranchrider.com.
Articles